Be one of the world's best wire products manufacturers known for outstanding products, quality and customer satisfaction.

Be a leader in our industry in the search for and use of new technologies.

Be an adaptive, responsive organization known for integrity, individual respect, empowerment and open communication.
---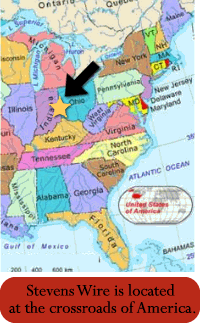 About Us
Design & Protoype
Production
Product Lines
Contact Us
Home
COPYRIGHT

All graphics, product descriptions, text, layouts, designs and selections on this website belong to Stevens Wire Products, Inc. ©2018. All rights are reserved.

You may electronically copy and print portions of our site in order to use the site for reference. Any other use of the materials on our site, without written permission from Stevens Wire
Products, Inc. is prohibited.

Trademarks:
All trademarks, service marks and trade names appearing on this site belong to Stevens Wire Products, Inc. Any unauthorized commercial use of these marks is prohibited.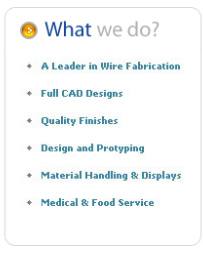 Contact Us :

351 NW F Street
Richmond, IN 47374-2229 USA
Phone: (765) 966-5534
Fax: (765) 962-3586

Email: office@stevenswire.com
---